ATP Luminometer - SystemSURE Plus
SKU:

9231001
***FREE SHIPPING WITHIN THE CONTIGUOUS US***
The SystemSURE Plus ATP luminometer hygiene monitoring system quickly determines the cleaning efficiency and hygienic status of surfaces and water, ensures product quality and reduces costs.
This ATP luminometer is designed with state-of-the art electronics, upgraded software program and improved functionality. The palm-sized ATP luminometer is easy to use, extremely sensitive and affordable.
Used with the Ultrasnap (surface) and Aquasnap (water) testing devices, the SystemSURE Plus ATP luminometer measures adenosine triphosphate (ATP), the universal energy molecule found in all animal, plant, bacterial, yeast and mold cells.
Microbial contamination contains ATP, but in small amounts. After cleaning, all sources of ATP should be significantly reduced. When ATP is brought into contact with Hygiena's unique, liquid-stable luciferase/luciferin reagent in the Ultrasnap or Aquasnap testing device, light is emitted in direct proportion to the amount of ATP present. The ATP luminometer measures the amount of light generated and provides information on the level of contamination in just seconds. The higher the reading, the more contamination present.

BENEFITS:
Optimizes and verifies that cleaning procedures are working
Ensures product quality and extends product shelf life
Optimizes chemical/sanitizer usage
Assists in developing and improving certain HACCP procedures
Protects brand and reputation
Most cost-effective ATP hygiene monitoring system available
Simple to use – three step test
Results in 15 seconds
Lightweight and portable
250 programmable test points per test plan
20 programmable test plans
Alphanumeric ID of locations
Stores 2000 results
Programmable user IDs
Self-calibration at startup
Detects down to 1 femtomole (1 x 10-16 moles)of ATP
Includes carrying case and strap
INSTRUMENT DESIGN:
Small, lightweight, handheld instrument (0.57 lbs., 7 x 18 x 3 cm)
Durable outside shell and sealed keypad to battle against splashes and the environment
DataSURE II analysis software included (unlimited installs)
AA battery powered (lasts up to 3000+ tests)
PC compatible via RS232 cable or USB
Simple to use, menu-driven operation from keypad
Engineered for durability and intensive use
TESTING DEVICES:
MANUAL: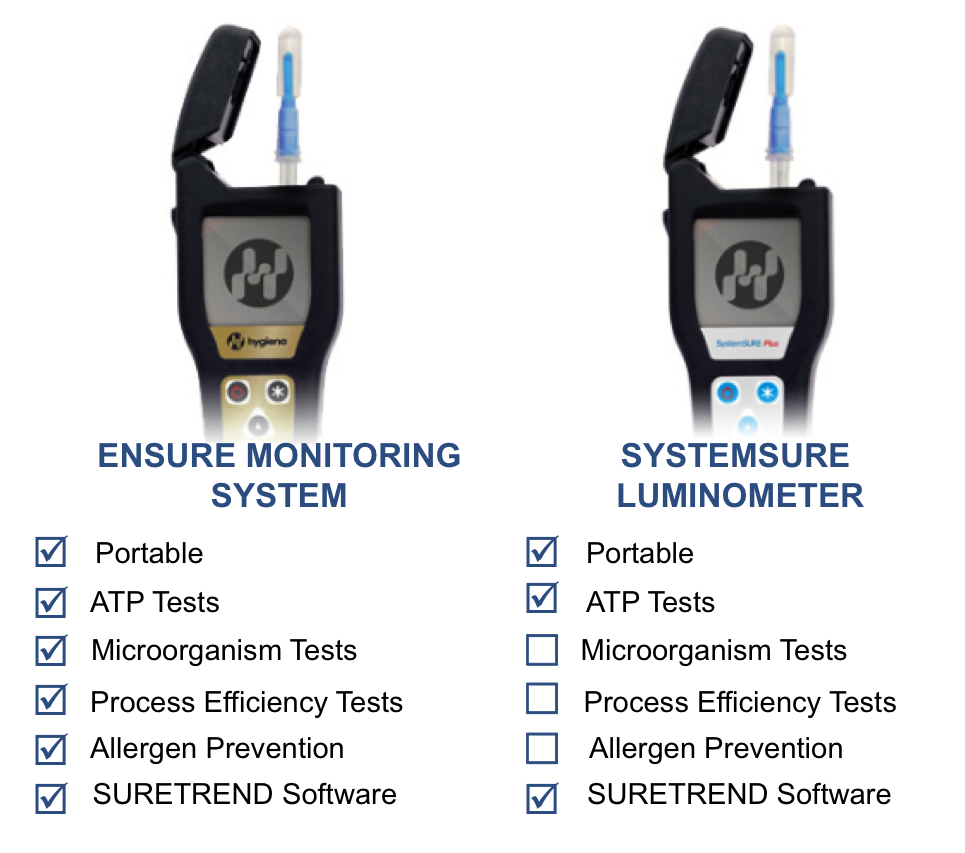 Hygiena