20 Gallon Smart Foam Unit
SKU:

9281808
***FREE SHIPPING WITHIN THE CONTIGUOUS US***
A FOAM-iT Product.
- Equipped with Smart Technology
     - Safer to store and maintain
     - Protects user and surroundings from chemical exposure in the event of a fall or accident
     - Gives you more control and flexibility
     - Easy ON/OFF operation
     - Handle and wand are tough but lightweight, with fan tip and built-in zero tip
- Draws from pre-mixed solution
- Powered by compressed air
- Hinged back plate provides tool-free access to components
- Quick-change pump
- Natural color tank for easy visibility of product levels
- Hinged lid
- Integrated hose wraps
- Front-facing drain
- In-line strainer to protect pump from debris
- Anti-kink hose protection
- Includes smart handle extension attachment it helps users foam the underside of equipment and other hard-to-reach areas
Pump Seals to choose from:
- Santoprene: standard
- Viton: upgrade against more aggressive chemicals
- Kalrez: the most robust against chemical attack and has the longest pump life
List of fluids/compounds that are allowed for each type of pump:
- Santoprene: Potable water, acids, alkalines, soap, alcohols and ketones.
- Viton: Oils, solvents, D-Limonene, aromatic & halogen hydrocarbons, acids.
- Kalrez: Lubricating oils, hydraulic oils, vegetable oils, alcohols, ketones, aromatic hydrocarbons, diluted acids, alkalis, soaps with solvents, automotive brake fluid, acetones, ethanol, inks.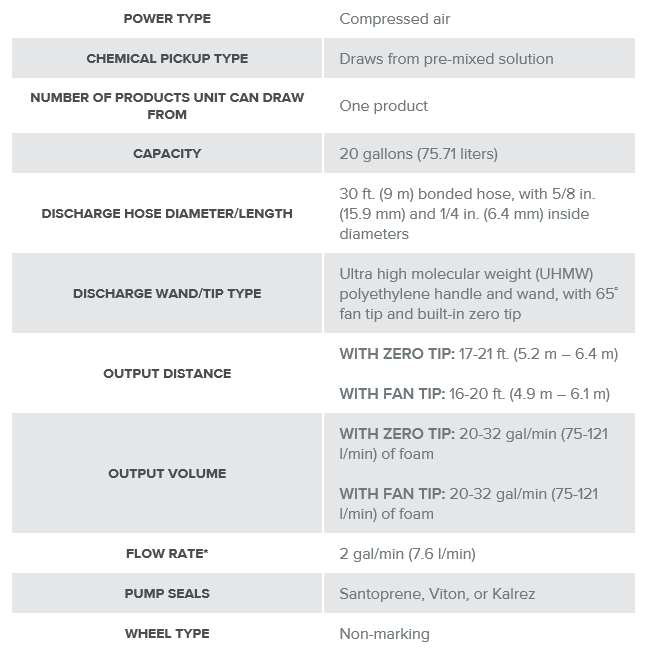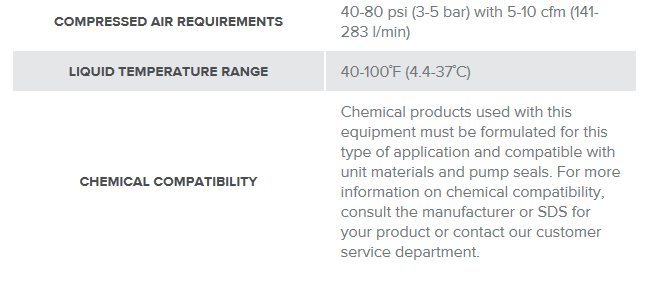 FOAM-iT